Last weekend we went down to visit our friends
Rob & Melissa
who are stationed at Camp Pendleton. We had more fun than can even be described. Towards the end of our visit Melissa brought up the
Camp Pendleton 'Mud Run'
. Not 'brought up' as in "Did you know they have an annual Mud Run" or "Can you believe that some idiots run in a thing called the 'Mud Run'".
No, no, no. She brought it up by saying "Would you and Eric run this with us?"
I told her to send me the link - which she did - and that we'd think about it.
And thinking about it I have done. All week. Almost every hour I have some thought of this race.
It is 6.2 miles long. 6.2. Did you read that? SIX POINT TWO MILES! Up hills, in the mud, through a river...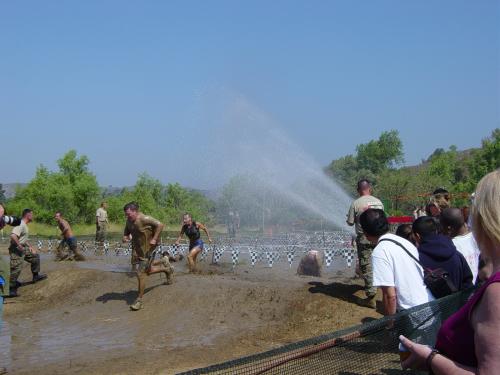 I have never run more than two miles in my life. And those two miles were when I was in my first year of college and had strong legs and a stomach unmarred by the stretch of child-bearing.
So...I am completely upended by the question about whether I could do this.
I keep going back and forth in my mind.
Some of my thoughts and counter-thoughts:
* I've been trying to get in shape and this might provide a good goal to work towards. (Yes, but 6.2 miles Shell. Who are you kidding? Even with a training program you're not going to make it.)
* I like the idea of going out every night with Eric to run. (Yes but running Shell? When have you ever liked to run?)
* It would be awesome to be able to say I've done this. Plus maybe it would start a fun trend and we could do other runs with the Gluten-Free team. (Yeah, how awesome would it be to fall flat on your face or quit 1/2 way through the race.)
* There are a lot of people who do the couch-marathon training and succeed. (Just because you've been going to the gym every day doesn't mean you can run a 10k.)
As you can see my inner voice is not being helpful. I can't quite decide if I'm being self-deprecating or realistic.
Honestly I would really like to do it and feel like I'm coming up with all the ways and reasons I would fail to see if I can get past them. If I can get past them now then during the race it wouldn't be that big of a deal.
Thoughts???